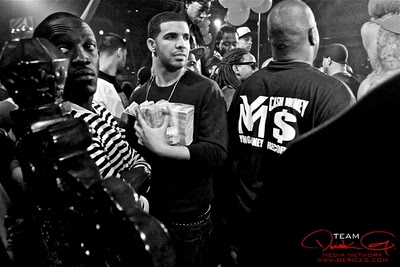 Toronto rapper, Drake spent $70,000 dollars at a strip club and whole net went crazy. Call him crass, misogynistic or flagrant, then after you've vented your displeasure – call him genius.
Allegedly the Young Money rapper was at the club with his entourage – who accompanied him with more than $70k, in one dollar bills. On cue they started throwing cash at the dancers, 'they made it rain in  the club'.
On the face of it all, Drake might come off looking like a dope but think about what a $70,000 advertisement campaign buys you in print or television. $70,000 may get you a thirty second spot television, maybe.  Or probably a of couple lines in the New York Post's ad section.
The rapper has a new album dropping soon (he's already released a hot single for it, Started from the bottom) and word of mouth is free. Who wants to throw away $70k in this economy (no matter how rich he is)?
If a person can start an internet meme on the cheap and it goes viral without lifting a hand – that ladies and gentlemen is brilliance. Besides making rain in the strip club is nothing new or edgy anymore; Miley Cyrus was photographed grabbing strippers bottoms. Rihanna too is a frequent patron of strip clubs.
Lil Wayne is probably the one that started this trend of throwing away significant dollars in strip clubs. It didn't hurt his album sales either, the last one sold like 9 million worldwide.
There are cellphone cameras everywhere; Drake didn't need an expensive camera crew. His stunt went viral on the cheap, good on OVO (October's Very Own).