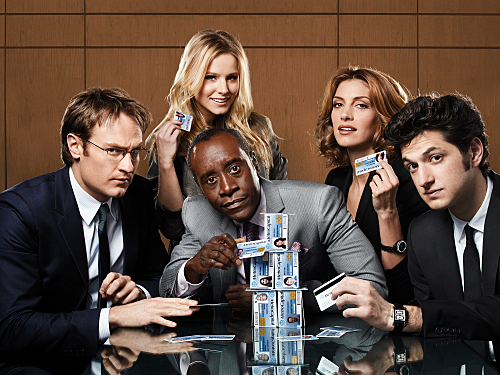 Don Cheadle's television gamble is a winner. The talented movie actor's Showtime drama/comedy, House of lies, is a hit.
The Hotel Rwanda star is one of many A-list stars taking their chances with t.v. shows. Series likes Cheadle's and  AMC's The Walking dead are pushing into territories big network corporations can't go.
The very first episode features Don in bed with a long legged blonde hottie – who we later learn is his wife – wrapped around him. Both actors were nude.
Cheadle's son on House of lies is experimenting with his gender identity, wearing both male and female clothes. The sitcom also features legendary actor, Glyn Turman from 80's sitcom, A different world.
The series is going in on the third season and already Don's won one Golden Globe for his work. The series was written for a white actor originally, Cheadle is also a producer on the sitcom.