Don't let the handsome gentile exterior fool you, beneath his facade of cool calmness is an intensely driven man. He's one of the best paid corporate titans, in fact ranking #15 in America, according to Fortune Magazine: earning an estimated $30.1 million US salary in 2009. Charles E. Phillips Jr.is smart, he holds a BS in Computer Science from the United States Air Force Academy, a JD degree from New York Law School, and an MBA from Hampton University. Charles Phillips is tough, how tough? Well you gotta be when you were  the co-leader of one of the biggest software firms on the planet, Oracle, with of course, possibly the most cut throat bosses around, Larry Ellison. Then after giving the firm the best years of its existence to be replaced by a guy with arguable less mettle, Mark Hurd, yep the same man fired from HP, for an alleged harassment case against him.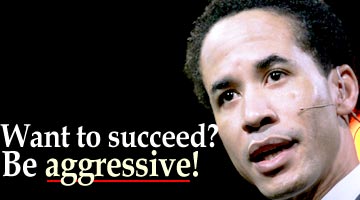 Charles developed his tough but cool persona long before Oracle of course; one doesn't just step in the bull pen with a hot head like Larry Ellison and take on the enemies he's created. Nope this toughness may have been honed in the military where Charles served as a Captain in the United States Marine Corps in the 2nd Battalion, 10th Marines. His ten year tenure was very productive for Oracle, where amongst  other things, he oversaw software design and development. His most difficult task though, had to have been taking a lot of the heat off Larry Ellison. Oracle has bought and swallowed up a lot of smaller competitors over the past ten years and along the way, Ellison has earned more than his fair share of new detractors.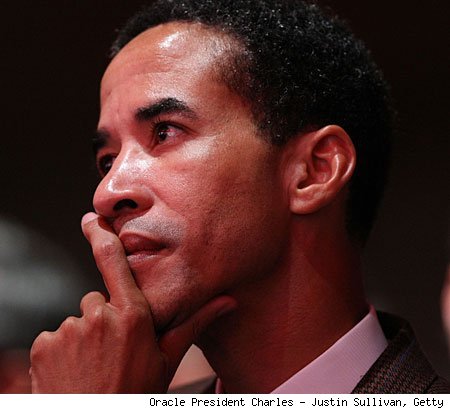 Many a journalist have spoken of their admiration of Phillips, who's not known for shying away from any tough questions regarding his ex-boss' brash take no prisoners style. He's dealt with a personal dilemma for an alleged affair, that played out publicly and embarrassingly for him.  With all the prior business and personal turmoil, Charles has emerged tougher. He is barely showing wear on his youthful face – though he may not look like it, Charles Phillips' a man pushing 51.
A talent like Charles Phillips is hot commodity and only a few weeks after leaving Oracle he's been snapped up by IT giant Infor – an ERP Software provider. Now a new era has begun in the Charles Phillips saga, we'll watch with intense interest while he lifts Infor to new heights. Mr. Phillips, like most executives of his ilk, will continue to shine behind the scenes only stepping into the spotlight when necessary then retreat when the job's done.